Japanese Retail Design – Top Stores in Tokyo

After his recent trip to Tokyo, greater group's Asia CEO Ryan Arrowsmith returned with dozens of photos from innovative and forward-thinking retailers who are going above and beyond to creative unique and engaging customer experiences. Our

retail design blog

shows your some highlights from this trip.
Greater集团亚洲首席执行官瑞安·阿罗史密斯在结束了东京之旅后,带回了数十张来自东京街头富有创新和远见意识的零售商店的照片,这些照片上的各商家正在以创造独特和引人入胜的客户体验为目标,不断超越自身、超越市场。本篇文章将取其中最具价值的零售设计,展示这次旅行中的一些亮点。
THE WORLD'S BIGGEST STARBUCKS RESERVE ROASTERY
世界最大的星巴克仓储式烘焙餐厅
The Starbucks Reserve Roastery Tokyo in the elegant Nakameguro district opened its doors in February 2019, making its mark as the biggest of its kind in the world. This is the coffee giant's fifth Reserve Roastery worldwide, taking an approach of localisation to embrace local design while maintaining the characteristic features of their coffee shops across the globe.
东京的中目黑区是整个东京市最为优雅的街区。2019年2月,咖啡业巨头星巴克在全球范围内的第五个仓储式烘焙餐厅在中目黑区开业,这也是五个相同类型的餐厅中最大的一家,店面装修则是用日式方法全面拥抱日式设计,同时又保持了星巴克作为全球连锁咖啡店必须具备的特色。
The Tokyo installation is decked out with washi paper lanterns and more than 2 000 copper cherry blossoms to complement the origami-inspired ceiling and the centre piece 17-metre-tall copper cask, rising up from the ground floor all the way through to the fourth floor. The cask features more than a hundred copper plates that have been hand-hammered in the traditional Japanese tsuchime technique.
店里的天花板上安装挂满了纸质灯笼和超过2000个折纸风格的铜质樱花,店铺中间矗立着从一楼贯通到四楼的17m高的铜质大酒桶。这块酒桶总共由一百多块铜板拼接而成,每一块都是用传统的日本tsuchime技术手工打磨出来的。
The cask is one of those multi-functional design features that are trending the retail design world now. It's a dramatic and theatrical focal point but also serves a practical purpose as the resting space for the coffee beans to allow the gas built up during the roasting process to escape before it can be brewed or packaged.
这个巨大的酒桶是受到当今正在引领零售设计界的那些"多功能设计"思想的产物之一。作为一个大得不正常的实用性物件,酒桶既是夸张的戏剧性焦点,实际上又可以作为咖啡豆的仓储空间,使烘焙过程中积聚的气体在进行正式的冲煮或包装之前散逸调。
The roastery stretches over four floors, from the main coffee bar on the first floor serving a unique selection of coffees and other signature drinks, to the full-service Arriviamo bar on the third floor where visitors can order coffee- and tea-infused cocktails. This roastery celebrates the unique aesthetics of Tokyo and serves as an excellent example of successful localisation without losing any of the brand's 'personality'. We love this!
整个烘培餐厅一共四层,一楼是经典的咖啡吧,提供星巴克独特的咖啡和其他特色饮品;三楼是提供全方位服务的Arriviamo酒吧,消费者可以在那里买到加注咖啡和茶的独特鸡尾酒。
这个餐厅充分彰显了东京市的独特美学,并且成功实现了一家店铺既做到本地化而又不失去品牌"个性",成为零售设计案例的一个典范!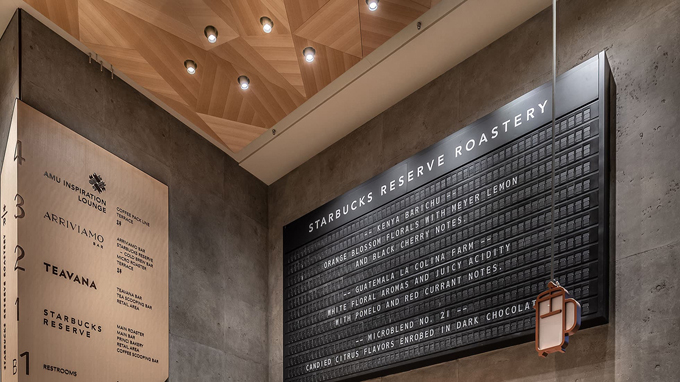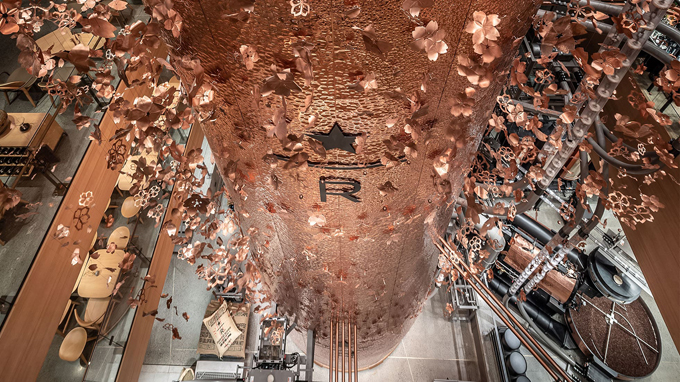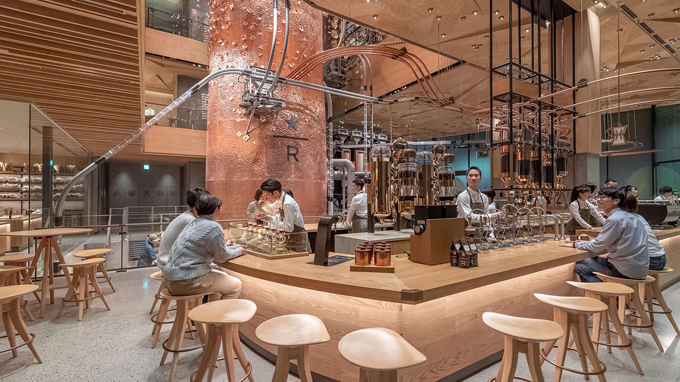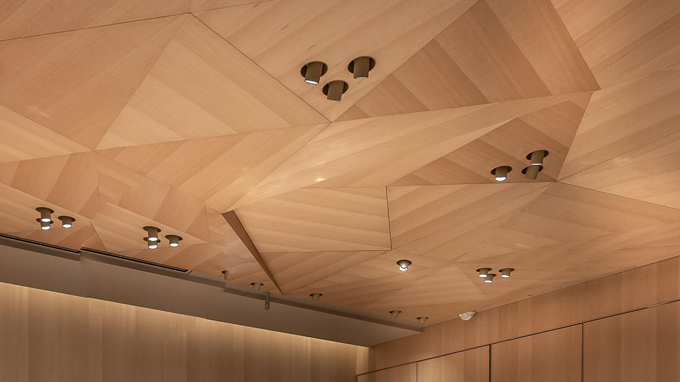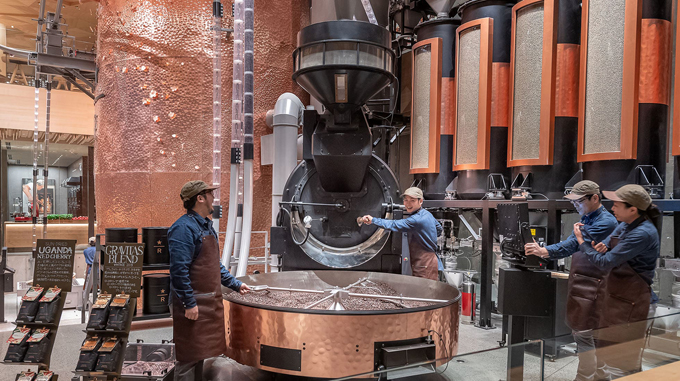 NEW BALANCE'S TOKYO FLAGSHIP STORE
New Balance东京旗舰店
Over the last couple of years, New Balance opened a handful of flagship stores across the world, of which the Tokyo store is the largest. Greater group has worked with New Balance on 8 of their boutiques globally including the Harajuku flagship, Ginza and Roppongi stores in Tokyo.
在过去几年里,New Balance在全球开设了多家旗舰店,其中最大的是东京旗舰店。Greater集团与New Balance在全球范围内签订了8家专卖店的合作协议,其中包括东京的原宿旗舰店,银座和六本木专卖店。
Apart from a massive range of running apparel for men, women and kids, the Harajuku flagship houses a cafe where shoppers can grab a coffee and a healthy snack. The store regularly hosts fitness events, giving it the feel of a gym. There are even shower facilities where you can freshen up after doing a yoga class!
其中,原宿旗舰店除了提供种类繁多的男女服装外,还设有一间咖啡厅,购物的人们可以在这里买到咖啡和健康的零食。这家店面还会定期举办健身活动,让人们感觉和健身房一模一样——甚至还设有淋浴设施,让人们在上完瑜伽课后可以神清气爽地离开!
Located in the Roppongi district of midtown Tokyo, the "New Balance Roppongi 19:06″ store features a new lifestyle concept designed by the greater group Asia team in collaboration with New Balance specifically for the Japanese market. A drastic change from the traditional, it features simple, linear, and contemporary aesthetics that can easily be transformed into an event or product launch space as the floor fixtures disappears (or fits) into the walls. The store design was inspired by the Japanese concept of "MA"—the consciousness of the void between two structural parts. Strategically placed lights create separation between the ceiling and the walls, while wooden walls and sharp concrete flooring provide contrast representing raw performance.
New Balance六本木19:06专卖店位于东京市中心六本木区,其特色是由Greater亚洲团队与New Balance合作并专门针对日本市场设计的一种新的生活方式概念。与传统的设计相比,它具有巨大的变化功能——既具有简单、线性和现代的美感,当在需要时将地板固定装置收入墙壁后,又可以轻松地转换为活动或产品的发布空间。商店设计的灵感来自日本特有的"MA"概念——即两个结构部件之间的空隙意识。体现在这家专卖店当中,能看出精心布置的灯光在天花板和墙壁之间产生出分隔,而木质墙壁和锋利的混凝土底板则提供了悬殊的对比。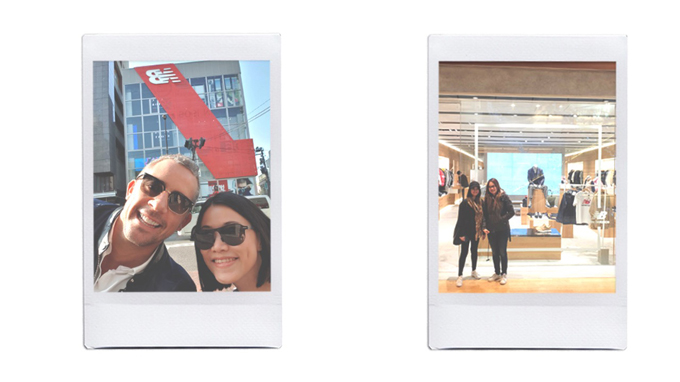 TIFFANY'S @ CAT STREET
蒂芙尼猫廊咖啡
Tiffany & Co's first concept store in Japan gives new meaning to the 'breakfast at Tiffany's'. This wonderland of a store presents a brand new way to experience the magical world of Tiffany's, featuring six floors of curated products, exclusive designs and an innovative Style Studio offering custom engraving.
蒂芙尼公司在日本开设的第一家概念店为"蒂芙尼的早餐"赋予了新的含义。这个商店以提供一种"仙境"的全新方式,让顾客体验蒂芙尼的魔幻世界,其中包括六层策展产品,独特的设计和创新的Style Studio(可提供定制雕刻)。
The Tiffany Cafe @ Cat Street cafe located on the top floor of the store is a beautiful space where shoppers can kick back with a cappuccino and a croissant (in true Audrey Hepburn style!) before continuing to browse the iconic pieces of jewellery that has made this brand so famous. This cafe is only the second of its kind in the world (Tiffany's first cafe opened in New York in 2017).
位于商店顶层的蒂芙尼猫廊咖啡厅是一个美丽的空间,在这里,购物者可以一边品尝卡布奇诺咖啡和羊角面包(用真正的奥黛丽·赫本的方式!),然后一边观赏蒂芙尼出品的标志性珠宝。这个品牌在世界上是如此的有名,而日本的这家咖啡厅是世界上仅有的两家之一,第一家咖啡厅于2017年在纽约开业。
The 'cat' in the name derives from the location of Tokyo bustling Cat Street and unfortunately doesn't refer to any real in-store cats. But Breakfast at Tiffany's fans can reminisce about the memory of Holly Golightly and her nameless cat while taking in the splendour of this one-of-a-kind cafe's architecture and design features.
咖啡厅名称中的"猫"源自东京繁华的猫街,这不免会有些令人失望——它并不是指店内有着真正的猫。但是,当蒂芙尼的粉丝在这里吃早餐时,满可以回忆起《蒂芙尼的早餐》这部电影中奥黛丽·赫本所饰演的霍莉·戈莱特丽和她的那只无名猫,同时欣赏这家独一无二的咖啡馆的建筑和设计特色。
The futuristic building in characteristic 'Tiffany Blue' makes it stand out among the neighbouring stores on Cat Street. Inside, each of the six levels are uniquely designed to represent the different ranges of Tiffany's products, from jewellery and accessories to homeware collections and fragrances.
身披特色"蒂芙尼蓝"的未来主义建筑使其在与附近的商店对比时脱颖而出。在建筑内部,六层中的每一层均经过独特设计,逐一代表着蒂芙尼不同的产品线:从珠宝和配饰到家居用品再到香水。
We can't wait to see this fun concept be introduced to more locations across the world!
很多粉丝都迫不及待地想看到这个有趣的概念被带到世界各地更多的地方!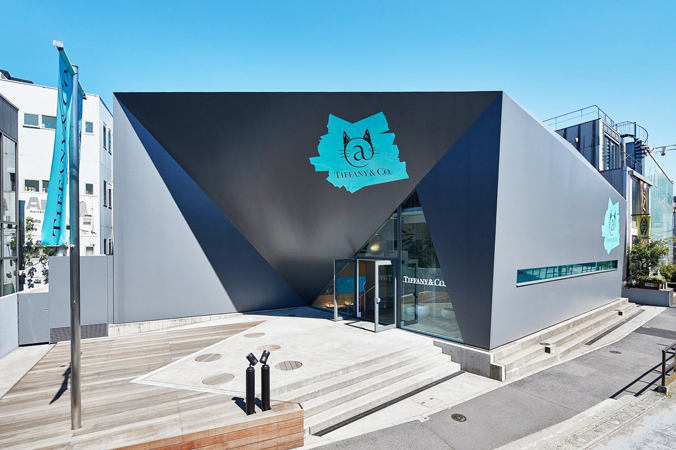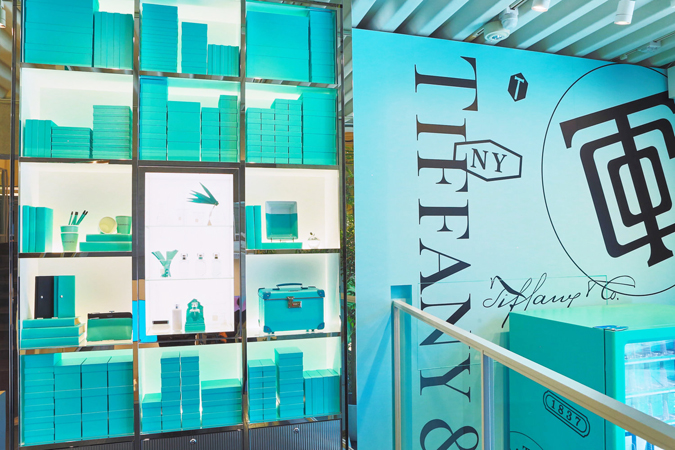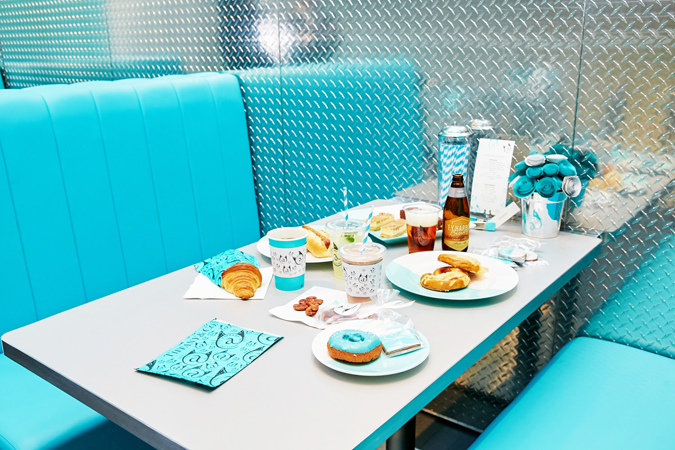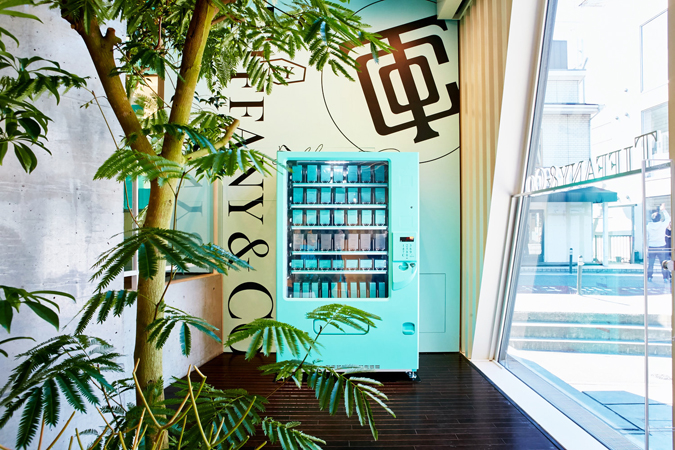 TOKYO MIDTOWN CHANDON BLOSSOM LOUNGE
东京市中心夏桐绽放酒廊
This is the 12th edition of an annual event to celebrate springtime in particular its famous cherry blossom season. In addition to the 200 meter long street Sakura-dori that are decked out with outdoor lounges and illuminated cherry blossom trees, the highlight of this year's pop-up is the Chandon Blossom Lounge, a collaboration between The Ritz-Carlton Tokyo and premium sparkling wine brand Chandon.
一年一度庆祝春天,著名的樱花祭活动第12届又来到东京。在这一届活动上,除了长200m的樱花街道上满布的户外休息室和发光的樱花树外,最具特点的就要数夏桐绽放酒廊了。这是东京丽思卡尔顿酒店和优质起泡酒品牌夏桐合作的一个酒廊。
G. WAREHOUSE
G.G.

仓库
Step inside the WAREHOUSE Minamihorie store in Osaka and you will be awe at the delightful and quirky visual merchandising. One advantage for smaller niche retailers is their nimbleness to engage and excite customers through creative retail formats that relates with the local clientele. As you wander through this converted warehouse, you discover that it's actually an eyewear shop that also houses designers, novelists, bicycle builders and aroma therapists. They are encouraged to use this space to freely express their creations which tie in with the store concept to "express your values through the glasses " which blend in as part of the props in the various themed rooms.
当人们走进大阪的G.G.仓库内,都会对这间由令人感到愉悦或古怪的视觉商品组合而成的店铺感到敬畏。小型利基零售商的优势之一就是他们灵活地通过与当地客户相关的创意零售形式来吸引和对顾客产生启发。当人们在这个经过改建的仓库中漫步时,将会发现这实际上是一家眼镜店,进而看到里面的设计师、小说家、自行车制造商和芳香精油治疗师。
整个建筑的主题就是鼓励上述的这些人在这个空间中自由地表达自己的创意,这些创意同时又于商店的理念的相结合——"通过眼镜表达您的价值",在各种主题房间中都被用作道具的一部分。
RIMOWA'S FIRST STAND-ALONE STORE
RIMOWA

的首家独立商店
The luxury baggage brand, Rimowa, opened their first stand-alone store in Tokyo in the beginning of 2019. Located in the heart of the tourist-packed Ginza district, this store is specifically designed to cater for an international market.
豪华商旅品牌Rimowa于2019年初在东京开设了第一家独立商店,位于游客众多旅游业发达的银座区中心,专门为迎合国际市场而设计。
The design is a blend of minimalist Western features while drawing from traditional Japanese craft aesthetics. A focal point in the design is the spiral staircase placed against a backdrop of woven baskets that seamlessly connect the two floors. The overall design reminds of Japanese rock gardens with flowing yet dynamic lines that leads shoppers from the first floor up the spiraling staircase to the second floor.
整个店铺的设计既融合了极简的西方特色,同时借鉴了传统的日本手工艺美学。设计的重点是将螺旋楼梯放在编织篮的背景下,这个超大的编织篮将两层楼无缝地连接起来。整体设计让人联想到日本的岩石花园,其线条流畅而动感十足,拥有足够的吸引力将购物者从一楼引导至螺旋楼梯进入二楼、
We love the warm atmosphere that merges such a diverse range of design elements and cultural inspirations. The combination of Western and Japanese, the contrast between flowing and angular and the composition of modern and traditional: unexpected but somehow perfectly working together to create a beautiful, aesthetically attractive space that brings the brand's personality to life across borders.
各种设计元素和文化灵感融合在一起的美好氛围是非常多设计师所乐意见到的事情:西方与日本的结合、流畅与棱角的对比、现代与传统的组合···在Rimova店铺中都以某种出乎意料但完美的方式结合在一起,创造出一个美丽、具有美学吸引力的空间,使得该品牌的个性风格成功跨越了国界。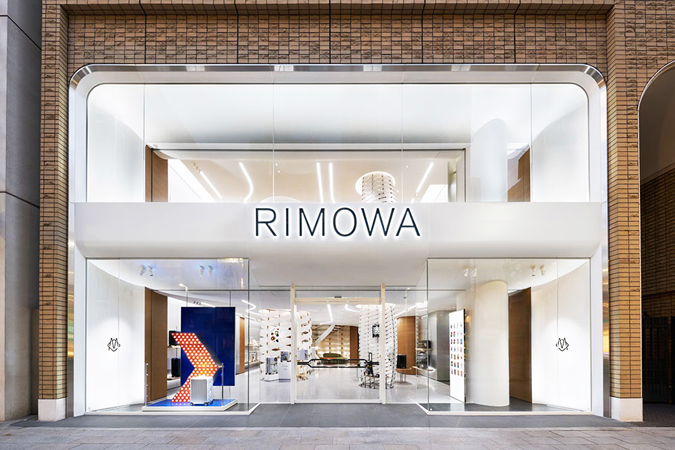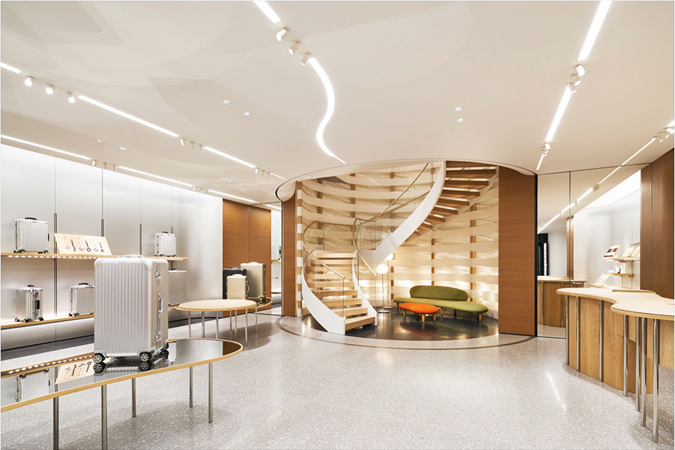 GALAXY'S LARGEST SHOWCASE STORE
三星GAlAXY最大的展示间
Samsung, who has collaborated with greater group previously on their flagship stores in Sydney and Melbourne, launched their largest Galaxy showcase store to date in the popular Harajuku shopping neighbourhood in Tokyo. Housed in an ultra-modern six-floor building with a striking entrance design by the Japanese designer and artist, Tokujin Yoshioka, the flagship's design reflects the cutting-edge technology Galaxy is so acclaimed for.
三星曾与Greater集团合作,在澳大利亚的悉尼和墨尔本开设了旗舰店。现在,三星又在东京倍受人们欢迎的原宿购物区开设了最大的Galaxy展示店。
店铺坐落在一幢总高六层的超现代建筑中,入口部分由日本设计师和艺术家德仁吉冈打造,在引人注目的同时体现了Galaxy广受赞誉的尖端技术、
On the first floor, visitors are welcomed by a massive LED screen where Galaxy's latest smart products are showcased. Move to the next floor and you'll find a cosy café where parents can enjoy a cup of coffee while their kids explore the video games and interactive installations on the next floors. The third floor is occupied by an interactive exhibit that tells the story of Galaxy's history and partnerships.
进入一楼的空间内,巨大的LED屏幕正在欢迎每一位顾客,同时展示Galaxy最新的智能产品。走到上面一层,顾客会发现一个舒适的咖啡厅,父母可以在这里喝一杯咖啡,而孩子们可以在建筑内玩耍视频游戏和互动装置。三楼是一个互动展厅,讲述了Galaxy的历史和诸多伙伴关系。
Samsung did a great job delivering a store that drives on digital innovation and experiential methods to keep us engaged and entertained.
三星在开设一家依靠数字创新和体验方法来保持顾客参与度和娱乐性的商店方面做得非常出色。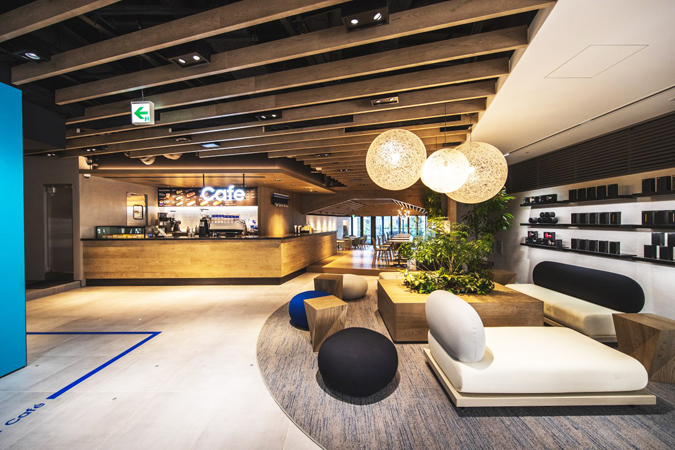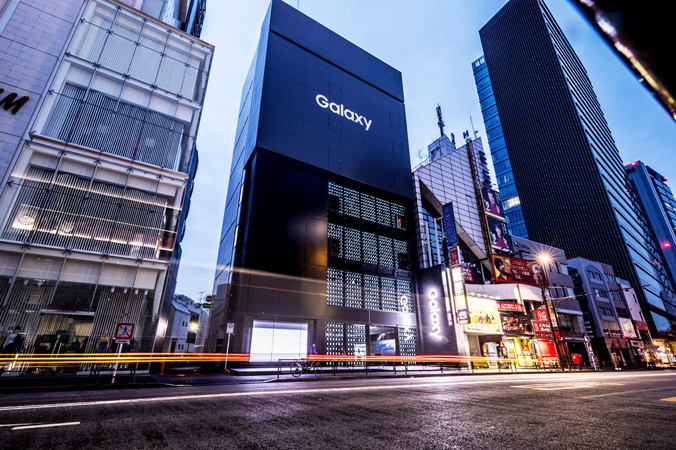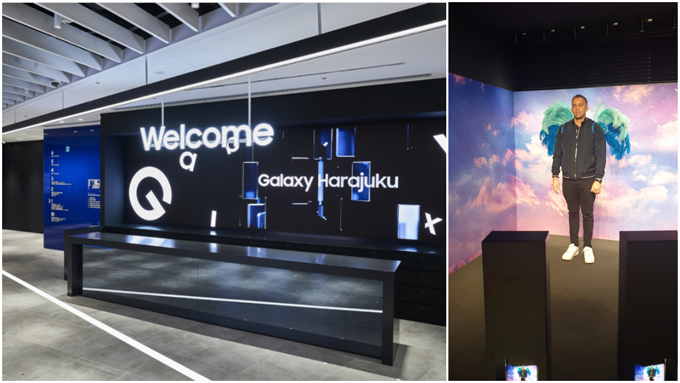 LUSH'S DIGITAL SHOPPING EXPERIENCE
LUSH的数字购物体验
LUSH Shinjuku is the brand's biggest store across all of Asia, and of its largest world-wide. Known for their fragrant treat-yourself products like scented bath bombs and luxurious bath oils, this feel-good brand's massive Tokyo flagship store is a sensory-driven experience.
新宿区的LUSH是该品牌在整个亚洲乃至全球最大的旗舰店。LUSH以香薰炸弹和豪华沐浴精油等香味弥漫的个人洗护产品而闻名,这个能够让人们自我感觉良好的品牌在这个位于东京的超大旗舰店内以一种感官驱动的体验表达自己。
The Tokyo roll-out is LUSH's first trial of a digital shopping experience, implementing technological innovation to showcase the their wide range of beauty and lifestyle products. Keeping with the urban landscape of Tokyo's modern, almost futuristic Shinjuku district, the store boasts with features like a giant LED screen, neon-lit background designs, touch sensors, video projections and digitalised pictograms.
东京旗舰店是LUSH首次尝试的数字购物体验,它实施了一系列技术创新以展示其广泛的美容和生活方式产品。这家商店与东京新宿的现代、近乎未来主义的城市景观保持一致,拥有巨大的LED屏幕、霓虹灯背景设计、触摸传感器、视频投影和数字化象形图等功能。
Employing these measures of digital tech enables the brand to operate across borders of language and culture, perfectly fitting in against the backdrop of Tokyo's international diversity.
利用这些数字技术手段,品牌可以跨越语言和文化的边界开展业务,非常适合东京这座城市国际且多元化的背景。
Interactive shopping experiences that encourage brand-customer-engagement are always enthusiastically received by us, both as shoppers as well as retail space designers. Excited to see future digital innovations from LUSH!
瑞安·阿罗史密斯表示:无论自己是作为一名购物者还是一名零售空间设计师,他都一直在积极地推动着交互式的购物体验,以增强品牌的客户参与度。因此当他看到LUSH应对未来的数字创新时,非常激动!