About QUADRANT2DESIGN
关于第二象限设计
Quadrant2Design is UK based exhibition stand contractors, who operate throughout the United Kingdom and Europe, but with a significant number of worldwide projects.We have twenty years of experience helping exhibitors with modular solutions that are reusable across different stand space, improving operational efficiency, and reducing costs, especially where multiple projects are involved.
第二象限设计(Quadrant2Design,以下简称Q2D)是英国的展位承包商,主要在英国和欧洲开展业务,同时在全球范围内也拥有大量的项目。该公司在帮助参展商提供可在不同展位空间重复使用的模块化解决方案的方面,有着二十多年的专业经验,能够有效提高运营效率并降低成本,尤其是在同时涉及多个项目的情况下。
Quadrant2Design is a specialist company, focusing on the creation and installation of reusable and modular exhibition stands, using the worlds premier stand-building system.We work with our own Swiss-design exhibiting system, called the Prestige Events System. Prestige is famous for creating exhibits that look exactly like a custom-built exhibition stand, yet with all the cost advantages of a modern system solution.
作为一家专业公司,Q2D致力于使用世界一流的展位搭建系统来创建和安装可重复使用的模块化展位。Q2D所使用的是自己的瑞士设计展览系统,他们称之为"重头戏系统"。"重头戏"以制作看起来完全像定制展位的展品而闻名,但是却又具有现代系统解决方案的所有成本优势。
We operate from three fully-owned factories in Poole, on the south coast of the United Kingdom. All design, print, manufacturing and assembly is undertaken in-house, using our own staff, with no sub-contraction involved.
Q2D在英国南海岸的普尔拥有三家全资工厂。所有设计、印刷、制造和组装均由自己的员工在内部进行,无需分包。
Case Study 1

:

CitySprint
案例

1

:

CitySprint
CitySprint offer delivery and logistics solutions across the UK and are proud to deliver for the NHS.
CitySprint在英国提供快递物流的解决方案,连NHS(英国国民健康保险)都与其有业务合作。
CitySprint were keen to include high-level branding across the entire stand. The standard height of an exhibition stand is 2.5m, but high-level branding can be up to 4m tall. This would give CitySprint a much bigger presence on the trade show floor.
CitySprint渴望在整个展台中展现自己高级的品牌力。展位的标准高度为2.5m,但Q2D为其选择的高档次的招牌高达4m。这将使CitySprint在展会现场表现出的规模更大。
Another thing that CitySprint needed was storage space. Exhibition stands can look messy if there is no out-of-sight storage available to keep promotional literature and giveaways out of the way.
CitySprint需要的另外一个功能是存储空间。如果没有能将宣传资料和赠品挡在视线之外的储物柜,那么展位看起来会很乱。
Finally, CitySprint needed a reusable and reconfigurable stand. It would be unrealistic to try to get the same size floor space at every show. Here is a small example of the spaces that CitySprint have booked previously.
最后,CitySprint需要一个可重复使用和可重新配置的支架。因为每次参展都期待能够获得相同大小和形状展位空间是不现实的。下面的表格是CitySprint此前预订的展位空间的示例:
| | | | |
| --- | --- | --- | --- |
| 国际光学贸易展 | | 7m X 4.5m | 两面开 |
| 临床药学大会 | | 10m X 3m | 三面开 |
| 药房展示 | | 4m X 3m | 两面开 |
| IRX | | 6m X 5m | 三面开 |
Their exhibition stand had to adapt to suit all of these floor spaces and more.
这些展位空间的大小都不一致,因此CitySprint期望的展台必须适应所有这些地面空间以及更多空间的限制。
Since we started working with CitySprint, they have rebranded and we have enhanced our product offering. We've designed and developed several unique design features that we were able to incorporate into their stand.
Q2D与CitySprint的合作时间已经很久,期间后者还经历过一次更名,Q2D也为其增强了产品范围,设计并开发出一些独特的功能,整合到CitySprint的展台中。
This includes things like curved, branded counters and illuminated product showcases. To bring the brand to life, our graphic designers created a photo-floor for an immersive branded experience.
其中包括:弯曲的品牌柜台和发光的产品展示柜;为了使得品牌形象更加栩栩如生,Q2D的平面设计师制作了一个图片地板,以提供沉浸式的品牌体验。
Storage was highlighted in the brief and we wanted to make sure they had plenty. By creating a unique structure and fitting a curtain, we were able to give CitySprint maximum out-of-sight storage to keep their stand tidy.
在CitySprint简短的展台需求中,对于储藏空间要求被高光标出,Q2D必须确保展台有足够的空间。通过创建独特的结构并安装帘幕,匹配展台的最大隐藏式存储空间被创建出来,有力地保持了展台的整洁。
Finally, our designers knew that CitySprint were keen to fix screens and iPads into their exhibition stand. We included iPad mounts on their branded counters so that they were able to capture lead data and show prospects their website.
最后,Q2D的设计师了解到CitySprint渴望将屏幕和iPad固定在他们的展位上,因此特地在品牌柜台上放置了iPad支架,以便CitySprint能够捕获潜在客户数据并向其展示网站。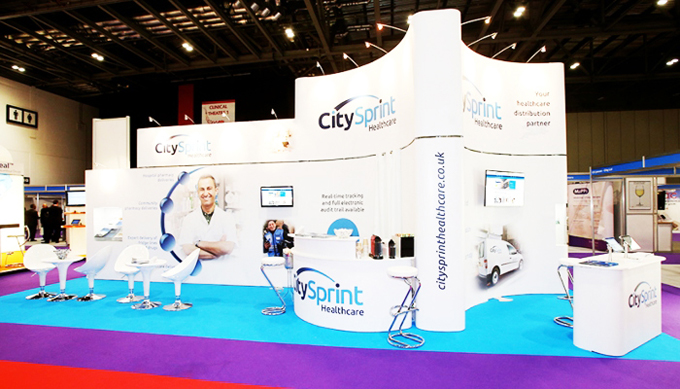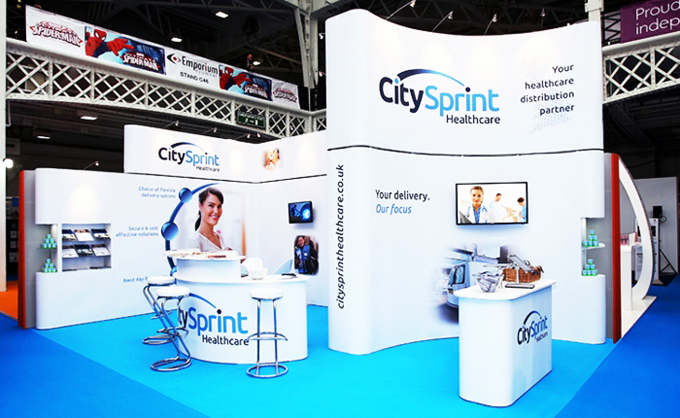 Case Study 2

:

Coil Candy E-Liquid
Coil Candy, based in Florida, produce e-liquids in seven distinct flavours. They take inspiration from the most delicious fruits and desserts you can find. And, according to their reviews, their e-liquid is one of the best products a vaper can buy.
Coil Candy是位于美国佛罗里达州的一家电子烟油生产商,以其独特的七种口味的电子烟油而闻名。他们从人们最爱美味水果和甜点中汲取灵感制作产品。根据消费者对其作出的评论,Coil Candy电子烟油是老烟枪们可以买到最好的产品之一。
Coil Candy sell e-liquid in small bottles. Because Vape Expo is a trade and consumer show, they wanted the opportunity to display as many products as possible. Coil Candy asked us to design an exhibition stand with enough space to display 4,000 bottles of e-liquid.
Coil Candy主要商品是小瓶装的电子烟油。因为电子烟博览会是贸易商和消费者都会参加的展会,所以他们希望可以通过展台设计展示尽可能多德产品。Coil Candy对Q2D的要求是:设计一个展台,使他们能在展位上有足够的空间来展示4000瓶电子烟油。
They had decided to share their floor space with another company (which is a great idea if you are looking for exhibition budgeting tips). Coil Candy booked a 6m X 6m space with three open sides. They used 6m X 3m to showcase their brand and products.
考虑到预算问题,Coil Candy聪明地选择与另一家公司共享展位空间,他们先预订了6m×6m的空间,共带有三个开放面,然后自己选用了其中6m×3m的一部分展示自己的品牌和产品。
The biggest challenge in this brief was designing an eye-catching stand that didn't take attention away from the products. Coil Candy needed out-of-site storage to keep stock that they would replenish. But they also need bold graphic design that would help them stand out at Vape Expo.
在Coil Candy的展台需求中最大的挑战是设计一个引人注目的展台,但同时又不能转移人们对产品的注意力。在储藏空间上,由于Coil Candy有场外仓库帮助补充、保持库存,因此大胆的图形设计并没有太多障碍,Q2D必须达到这个要求以帮助他们在电子烟博览会上脱颖而出。
Furthermore, they needed an exhibition stand that they could reconfigure as they intended to exhibit at Vape Expo again. And they did. The following year, they asked us to adapt their stand to fit a 3m X 3m space that was open on one side.
此外,Coil Candy还需要展台可以在下一届电子烟博览会上继续使用。Q2D没有让他们失望。第二年,只是经过了些微调整的展架,就完美匹配上单侧开放的3m×3m展位。
Coil Candy provided us with their branding guidelines so that we could design an exhibition stand that perfectly defined them. We're experts when it comes to graphic design for large format printing, but we like to add unique design features to make every stand more impactful.
Coil Candy为Q2D提供了自己的品牌指导,方便后者可以设计出完美定义自身形象的展台。而在进行大幅面印刷的图形设计时,Q2D回到专家的角色,并希望为Coil Candy的展台添加独特的设计功能,以使得每个支架都能更具影响力。
High-level branding is a great way to make your brand stand out. As is movement. And lighting.
树立高级感的招牌是一个在展会现场让品牌脱颖而出的好方法。招牌的变形和照明也是一样的道理。
We designed a fret cut backlit rotating header for Coil Candy. The feature stood almost a metre above the rest of the stand, towering over competitors. Coil Candy's logo was visible from across the floor.
Q2D为Coil Candy设计了品格切割背光旋转接头,该展架比正常的支架高出近一米,耸立于周边的竞争对手之上。而整个地板上都清晰可见Coil Candy的LOGO。
Solution

解决方案
Quadrant2Design work with one solution, the Prestige Events System. It offers a 100% graphic look, with no aluminium framework interrupting your branding. Our system is reusable and reconfigurable, so Coil Candy would be able to use the same stand year-on-year.
Q2D在该项目上仍然使用专有的"重头戏系统"。它提供100%的图形外观,没有铝制框架对品牌形象造成影响。通过该系统制作出的展台都是可重复使用以及可重新配置的,因此Coil Candy可以每年都使用相同的支架。
To offer Coil Candy even more value, we suggested that they take advantage of our Free2Hire pricing plan. This includes:
· in-house project management
· bespoke graphic design
· professional installation and dismantle
· Free lifetime design
为了在Coil Candy的展台项目中附加更多价值,Q2D向其建议自家的Free2Hire定价计划,其中包括:
· 内部项目管理
· 定制图形设计
· 专业的安装和拆卸
· 终身免费设计
This is the best package deal for rental exhibition stands, as we never charge a fee to hire the hardware. What's more, the cost of repeat exhibiting can decrease by up to 70%.
对于展位租赁来说,该计划是最好的交易套餐。因为购买这样的套餐服务,Q2D就不会收取硬件租用的费用,此外,可重复使用的展台成本最多可降低70%。
Coil Candy saw the benefits of our Free2Hire plan when they booked their second space at Vape Expo. They were able to reuse their graphic panels and their branded counter on a different sized shell scheme space. Our CAD designers reconfigured their exhibition stand for free as part of their lifetime free design
Coil Candy在电子烟博览会预订了第二个展位时,发现了Q2D提供的Free2Hire计划的好处。即使不同大小的展位空间,也可以将相同的图形面板和品牌柜台方案重复使用。并且利用该计划的一项条款,Q2D的CAD设计师免费帮助他们重新设计了展位。
To solve the storage solution, we integrating shelving into Coil Candy's branded counter. The shelving had open access at the rear and clear windows on the front. It made the whole stand feel more like a shop than an exhibition display.
为了解决展品展示的解决方案,Q2D将货架集成到Coil Candy的品牌柜台中。架子后部有开放通道,前面设有透明窗户。它使得整个展台更具有商店的特点,而不像处于展会之中了。
Finally, we included illuminated showcases with integrated shelving for additional product display. These showcases were coloured coordinated to make the products on display. There was also a storage area that Coil Candy could access via a curtain to keep excess stock tidy and out of sight.
最后,Q2D设计囊括了照明和集成货架的展示柜,还可以用于其他产品的展示。这些展示柜的色彩协调一致,使得产品更加惹眼。在展示柜附近,还设有一个可以让Coil Candy的工作人员通过帘幕进入的储藏区域,这里可以整洁地放置多余的库存,并让展会上的普通观众看不见。

Case Study 3

:

Haywood & Padgett
案例3:Haywood&Padgett
Haywood & Padgett have spent 30 years perfecting the great British scone. Their expert team have developed innovative, exciting products that sold in the top high street retailers.
Haywood&Padgett(以下简称H&P)是一家从业30年,无论品质还是口味都尽善尽美的英式点心生产商。他们的专家团队开发了创新的、令人兴奋的产品,并在顶级街头零售商的店面里销售。
Haywood & Padgett had a busy exhibition calendar that took them to Germany, London and Birmingham. They needed a stand that was reusable, reconfigurable and easy to transport. Ideally, they wanted a professional installation option that included international events.
H&P在各个展览上的日程排得满满当当:德国、伦敦、伯明翰,轮番上阵。因此他们需要一套可重复使用、重新配置并且易于运输的展架。在理想情况下,他们甚至想要一套专业的安装计划,其中包括国际活动。
The aim was to show distributers that they had the capability and capacity to deliver on a wholesale basis. They produce around 4.5 million scones a week so we knew it wouldn't be hard to share that message.
H&P希望通过展台设计所传达出的信息是向众多分销商表明他们能够进行大量批发销售,展现烤饼周产量450万个的能力。由于该厂商的真正实力很强,Q2D知道分享这些信息并不难。
The first show that they asked us to design a stand for was IFE 2017. The floor space was 6x3m with two open sides. This is a good sized space to achieve the brief, and we knew we could design something spectacular to stand out from the other shell schemes.
双方合作进行展台设计的第一场展览是IFE(国际食品展览会)2017,在这场展会上,H&P给出Q2D的是一个6m×3m,有两个敞开侧面的展位空间。这是一个对于实现H&P展台要求来说非常合适的展位,也方便Q2D可以设计一些引人注目的产品以使其从众多竞争对手的方案中脱颖而出。
We are experts when it comes to shell scheme transformations, and Haywood & Padgett's exhibition stand was no different. Our seamless graphic look was perfect to entice delegates over to their exhibit with gorgeous baking imagery.
在展台形式转换方面,Q2D是当之无愧的专家,H&P的展台也发挥出了他们真正的实力:无缝地图形外观非常适合通过华丽的烘焙图像吸引分销商代表们进入他们的展位观看。
High-level branding helped Haywood & Padgett stand out on the trade show floor. We removed the fascia panels and ceiling grid to allow us to extend the height to 3.9m – towering above the other shell schemes.
具有高级感的招牌帮助H&P成功在贸易展会上脱颖而出。Q2D移除了展位上原有的招牌面板和天花板格栅,使得H&P的展台能够将高度扩展至3.9m——远超在场的其他展台。
Integrated product showcases, fitted with shelving and downlighting, encouraged visitors to engage with Haywood & Padgett's product range. There was also a meeting area on the stand, which made one-to-one meetings with distributors possible.
配有支架和筒灯的集成产品展示柜鼓励参观者们参与进H&P的展台范围内。此外,展位上还专门设有会谈区,可以与分销商进行一对一会谈。
Photo-flooring was the final step in bringing this brand to life. A printed vinyl floor covering made to look like a wood finish was embellished with the Haywood & Padgett logo.
地板上的图片铺设是让整个展台栩栩如生的最后一步。H&P的LOGO印刷在乙烯基地板贴图上,覆盖于地面,看起来却像装饰了木饰面的实物一般。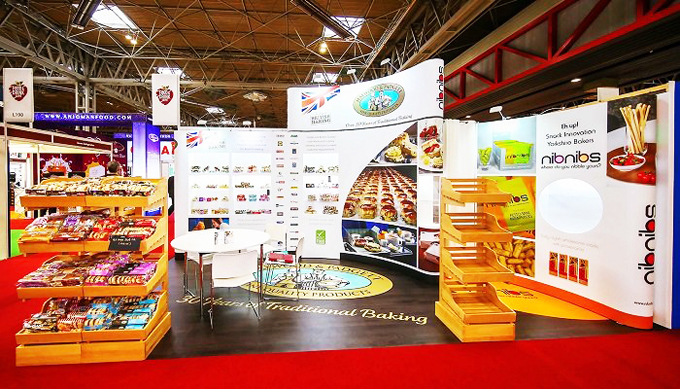 Case Study 4

:

Barber's Farmhouse Cheese
案例4:Barber农场奶酪
Barber's Farmhouse Cheesemakers produce award-winning cheese in their family-run dairy based in Somerset. With nearly two centuries of cheese making under their belts, the Barber family are committed to making the finest farmhouse cheddar.
Barber农舍奶酪,是一家位于萨默塞特郡的家庭经营乳制品制造商,在乳制品领域屡获殊荣。凭借其将近两个世纪的奶酪制作经验,巴伯家族致力于制作最好的农场切达干酪。
Barber's Farmhouse Cheesemakers had booked a 3m X 3m floor space at IFE 2015. The space was on the corner of a shell scheme block and had two open two sides.
Barber农场奶酪在IFE上预订了3m×3m的展位空间,该展位位于展厅一角,两侧向外敞开。
Live event marketing was a crucial part of their business. As well as the International Food Exhibition, Barber's Farmhouse Cheddar also exhibit at the BBC Good Food Show and attend the World Cheese Awards each year.
展会现场的活动营销是他们业务的重要组成部分。除了IFE外,巴伯农场奶酪还参加了BBC美食展览,并每年都参与进世界奶酪奖的评选活动中。
Exhibitions are a fantastic opportunity to network with industry leaders, showcase your product and generate leads. Barber's Farmhouse Cheesemakers needed a graphic design that would help them make a lasting impression, find new suppliers and win more awards.
无论是何种展会,都是与该行业领导者进行交流、展示产品、吸引潜在客户的绝佳机会。Barber农场奶酪需要优秀的图形设计,以期有助于给展会上的观众留下深刻的印象,找到新的供应商,并赢得更多奖项。
They asked for modern, but traditional graphics that weren't too rustic or corporate. They needed a unique solution to showcase their products as they had a variety of promotional literature, small tasters and large wheels of cheese.
由于Barber奶酪独特的悠久历史,因此他们要求的展台上的图形不是单纯现代或传统的风格,而是显得粗糙的连体图形。这将是一个独特的展台解决方案,用于展示产品、各种促销资料、品尝小样以及超大的奶酪轮。
Having had a look at our showroom, Barber's Farmhouse Cheesemakers decided that they liked the wood panel effect walls. However, they were still keen to see a modern take.
在参观了Q2D的样板间后,Barber奶酪决定使用木板风格的效果墙。不过,他们仍然希望在其中看到一些现代化的元素。
We design and build over 600 exhibition stands each year at venues across Europe. However, as we have an office full of cheese lovers, this has been one of our favourite stands to work on.The vintage cheddar made on the Barber's family farm is our favourite, and this brief was a dream come true. Barber's Farmhouse Cheesemaker's wanted something modern that wasn't too corporate. They wanted to steer away from traditional, rustic looking graphics.
Q2D每年在欧洲各地需要设计和建造600多个展位,但是和Barber奶酪的合作是他们最喜欢项目之一,原因无他——该公司里全都是奶酪爱好者,Barber农场奶酪的招牌切达干酪更是Q2D公司员工们的最爱,现在这些奶酪来到了他们的面前。
Barber奶酪想要的效果是具有现代化元素,但又没有企业风格,同时又能摆脱传统乡村风格的图形。
We combined the two. The aged wood effect L-shaped counter was perfect for the team to chat with delegates over a delicious cheese sample. The main structured was cladded with floor-to-ceiling graphics showing off the product and the farm perfectly.
Q2D将其提出的几点需求结合在一起:老式的木质效果L型柜台非常适合团队与代表们就每位的奶酪样品聊天。展台的主体结构铺买了从地板到天花板的图形,完美地展示了产品和农场氛围。
<span style="font-family: Helvetica;color: rgb(65